Hello Sandwiches!
Today I took a
three hour community walking tour of Shimokitazawa's 'fumikiri'
(train track crossing) which will close down next week when the train lines
go underground
. I will miss riding above ground and standing at the fumikiri so much.
Mr Kimura-san who lead our tour.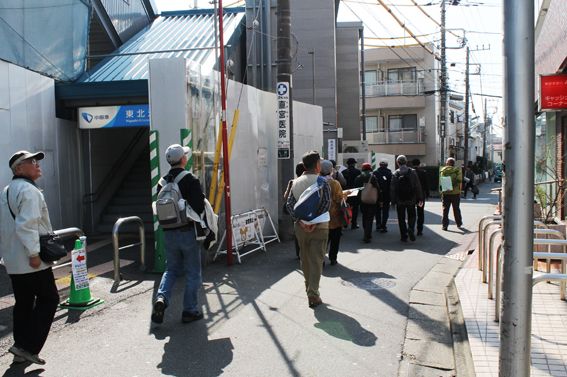 And off we went. The tour started from Higashikitazawa station which is about three minutes walk from my apartment.
We stopped at each fumikiri and Kimura-san gave a history of each fumikiri.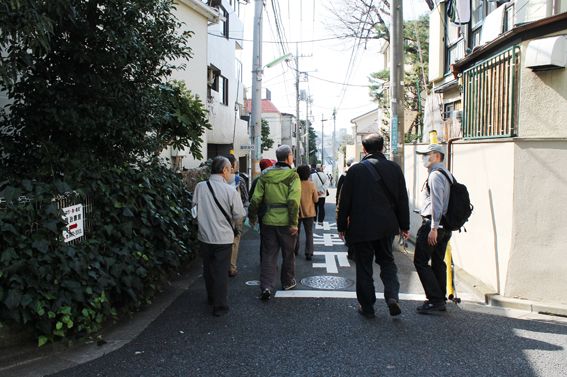 Times like this I can't believe I live in Japan. I kept thinking to myself...OMG I live in Japan. I. am. on. a. community. walking. tour. where. everyone. is. speaking. Japanese.
I've been here for almost three years but sometimes it still hasn't sunk in. When I was working at VOGUE Living designing away at my Alexandria desk I doubt I could have imagined I'd soon be spending my Saturdays on a community walking tour.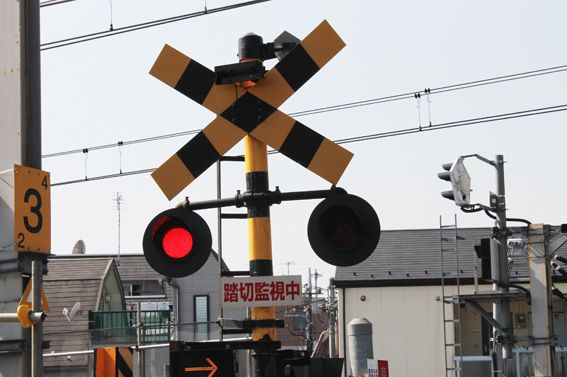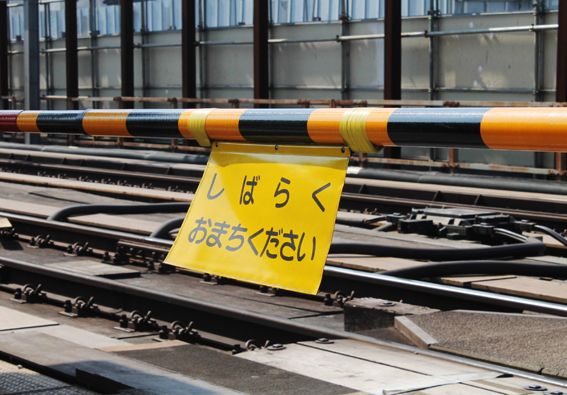 Translates roughly as 'Please wait a moment'. I'll miss this!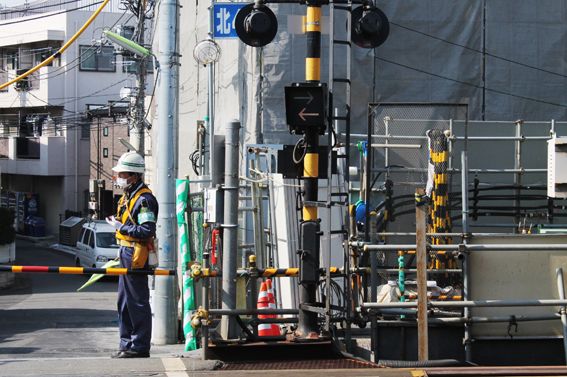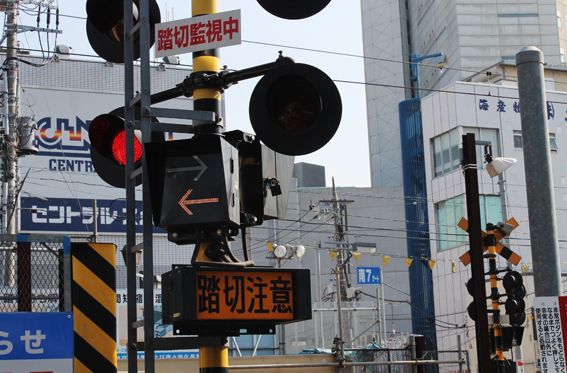 I wonder just how long I've spent standing with my groceries watching these signs to see which way the train is coming (and how long we have to wait) at the fumikiri.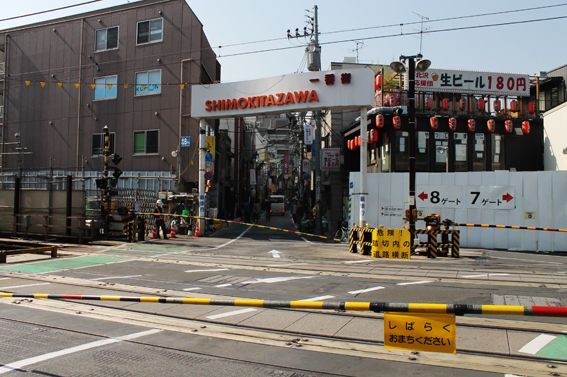 The fumikiri just a few minutes from my house.
Kimura-san used photocopies to show us what each fumikiri used to look like. Seriously, I felt so special to be involved in this community walk. It cost ¥300 and was so informative complete with maps and information booklets.
I'll miss lovely smiles like this bowing and helping everyone cross the fumikiri.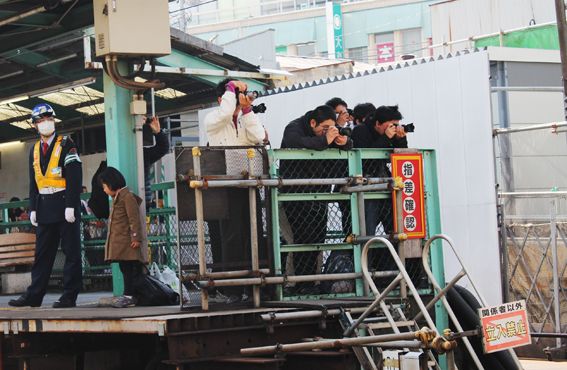 It's a bit of a popular photo taking hot spot at the moment as from next week these train tracks will be stopped forever.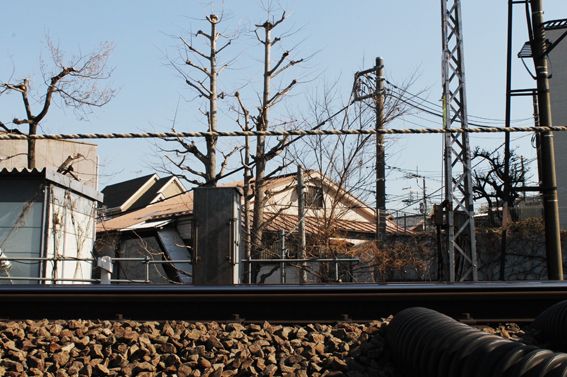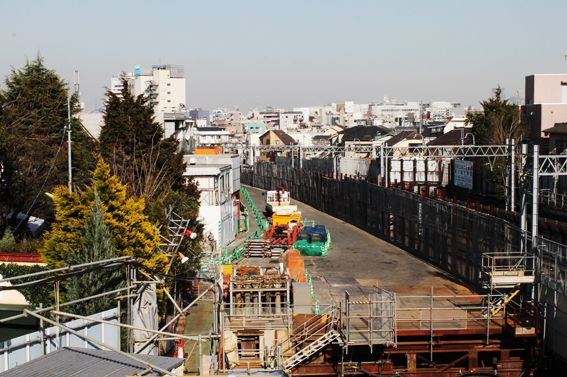 Our walking tour group! Actually the guy in the purple wasn't on our tour - he just turned up and took some photos for us and then we asked him to be in our photo. Kind of hilarious.
I often take the Odakyu-sen train from Higashikitazawa station towards Shinjuku. In between Yoyogi Uehara and Yoyogi Hachiman is one of my favourite views in Tokyo. Without fail, I always keep my eyes peeled to the window watching over the grey residential buildings. It's a pretty ordinary view of Tokyo I think but for me, it's always so beautiful.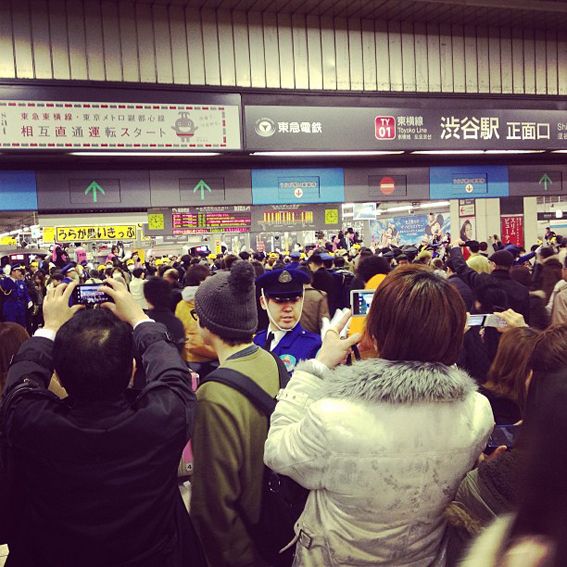 The above image was taken by
Maimaiki on instagram
(ありがとうまいまいきさん!)and shows a photo-crazed group of passengers at the Shibuya Toyoko-sen ticket gates. Everyone making memories of the last above ground Toyoko-sen train before it closed and went underground yesterday. Times are really changing here in Tokyo.
If you have any interest, you can also check
Hiki-chan's lovely photos of the Toyoko-sen
at Shibuya before it moved underground.
Okay, so that's my train post over. Anyone visiting Hello Sandwich for the first time might be surprised - ha ha I don't usually post train tracks! But this one is close to my heart.
Love Love
Hello Sandwich
xoxo