Another treat from
Mr Y's Japan package
was a stock up of my favourite seaweed,
Hijiki
. This seaweed used to be available in Sydney but unfortunately I have not been able to find it stocked anywhere in Sydney over the last few years - This may be because of the
safety concerns
associated with eating hijiki. In any case, I don't think it is too much to worry about providing you don't eat too much of it all the time.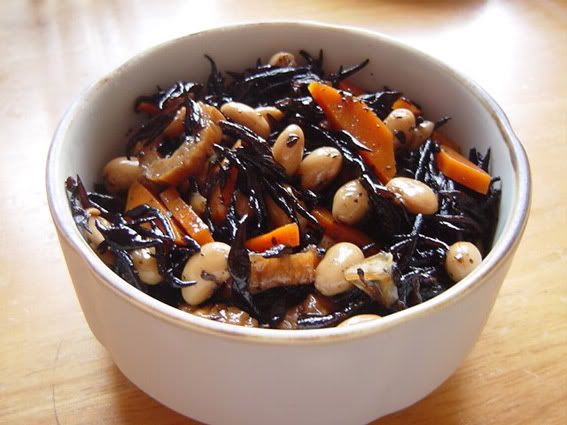 The above image is from
Oishii Yo
This
Hijiki salad recipe
is my favourite way to cook the hijiki! I hope you will enjoy too (if you manage to get your hands on it in your country!) We cooked this on
Saturday night
as part of our Japanese dinner for
Gracie
.
Above image from
Radish Boy
Speaking of our dinner with
Gracie
...Look at this gorgeous handmade thank you card that I found on my desk at work this morning! It's a little drawing of the dinner we all shared together!!! Oh my goodness right~?!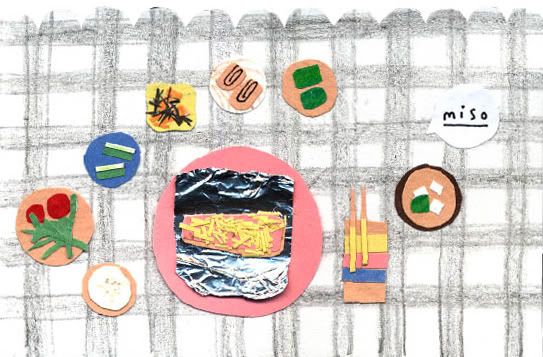 From left to right: Gohan with
ebi furikake
,  lettuce and tomato salad, pickled cucumber, hijiki seaweed salad,
tamagoyaki
with nori roll,
ohitashi spinach
, miso and the main plate is my favourite miso mayonnaise baked salmon. Gracie even illustrated
my gingham table cloth
and polka dot chop sticks! Don't you just love her!
By the way, this is the recipe for the never fail miso-mayonnaise baked salmon that I cook regularly. 
2 portions salmon fillet
1 spring onion, thinly sliced
2 shitake mushrooms thinly sliced
1/2 cup grated cheddar cheese
For the miso-mayonnaise paste:
4 tbsp Japanese
Kewpie
mayonnaise
1 1/2 tbsp white or red miso paste
Preheat the over to 180degrees. Thoroughly mix the miso and mayonnaise. Make a deep cut in each of the salmon fillets without cutting through them completely. Cut two pieces of foil large enough to completely enclose each piece of salmon. Spread half of the miso-mayo paste into the middle of each foil piece. Divide the spring onions and mushrooms evenly and scatter on top of the paste. Place each salmon fillets on top of the paste and spoon the remaining miso-mayo paste and the grated cheese into the cuts in the salmon. Tightly enclose the salmon in the foil and bake for 15 minutes or until cooked through. Open the foil and bake for a further 5 minutes until the cheese is lightly browned. Serve with your favourite Japanese side dishes and enjoy!

Yum!
P.S. Find out more about Japanese seaweeds
here
.
Love Love
Hello Sandwich
xxx