Sandwiches! This photo above is one of the many reasons why I just love living in this incredible city! Where else can you see a cute construction site 2D style window complete with potted plants and a series of cute mamacharis parked in front of it!
This is the rainy day view from my apartment today. There was something so beautiful about the white sky and crisp air. When I transferred trains at Yoyogi-uehara today the view was magical.
Winter potted plant collections around the corner to my apartment.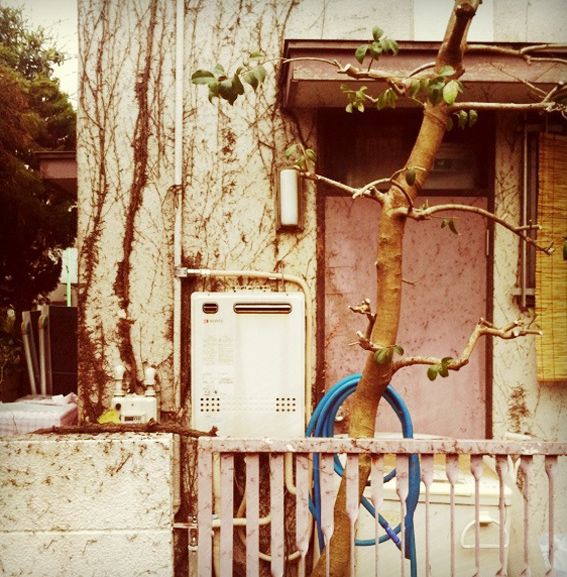 Vines and a bright blue hose. All you need for a photo really. Worth taking my pompom gloves off for this one!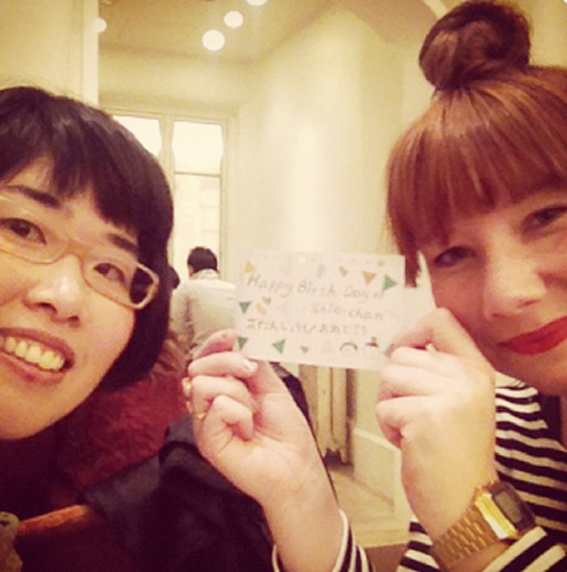 Super cute Yuko-chan and me at a cute little cafe in Ginza.
Yuko-chan gave me the sweetest Valentines Day present - beautifully wrapped in her gorgeous collage style.
We enjoyed making a birthday note for Shio-chan who shares her birthday with Valentines Day!
My friend Rhys presenting his
iPhone VJ software at Apple Store Ginza
.
I started the day running 7kms at Tipness listening to an old Drum and Bass track made by my friend
Luke
. I took a night time bike ride to my friend
Gracies
house to drop off some Valentines Day chocolates. And have just received
Tokyo-ga
from my friend
Joel
ありがとうJOEL! (Thank you
James
for the heads up on this too).
AND! I received the coolest Valentines Day card from my dad! He is making the shape of a heart with different photographs of himself made into a montage! Best Present Ever!
I hope you had a lovely Valentines Day Sandwiches. I can't wait for
White Day
.
Also! I wanted to share with you the cutest Valentines Day music by the prettiest girl ever
Miss Priscilla Ahn
. She sent me the EP a few days ago and I have had it on regular rotation here at my mini-me Tokyo apartment and she is just so nice that she is giving her EP away free for Valentines Day! Amazing no? Click over
here
, enter your email address, and the link will be sent to you to download!
Love Love
Hello Sandwich
xoxo