Sandwiches! I don't even know where to start to review my 'This is Antwerp' Tourism Antwerp trip. Every time I look at the gazillion photos I took I start to tear up with happiness. Such a wonderful and emotional week.
Well, here goes.
I drank a can of Kirin Green Label beer with Mr Y on the train on the way to Haneda airport. I was armed with my pink travel document purse with a printout of a Qatar airways ticket for 'Mrs Bizys' (I was assured it was okay that it didn't say Ms or Miss). It seemed somewhat surreal seeing as I was still pinching myself that someone was flying me across the world to essentially instagram a few shots of their city. I was incredibly excited, but also so utterly exhausted after just handing in the manuscript for my next book (I still have to show you the behind-the-scenes photos from the shoot!) and was, as a result, feeling emotional to be leaving Tokyo. It was the first time I had been to Europe in goodness knows how many years, more than ten, at least. Ever since I first visited Japan 15 years ago, I had been spending all of my holiday leave each year here in Tokyo. Put me on the QF21 or QF22 Qantas flights between Sydney and Tokyo and I could do the inflight announcements in both Japanese and English, but Europe?...Whole. New. Story. At 12:15am, after a glass of overpriced cava with Mr Y at Haneda, my Qatar flight to Doha took off.
Watching the flight path screen on the inflight entertainment, and counting the 'hours until destination' slowly pass by, it sunk in just how far away Tokyo is. Seriously, I live so far away from the rest of the world over here in my little Tokyo bubble. Two, maybe three movies, and a stopover in Doha later, and I was greeted by the lovely Andrew of Walkie Talkie fame at Brussels airport. No 'Hello Sandwich' sign, just the uber cool Andrew in his bright jacket and smiley face to greet me. Our first stop was coffee while we waited for one of the other international guests (Itay, who would soon become my new best friend on earth) to arrive.
"My name means pain in Japanese", said Itay upon meeting for the first time. I'm pretty sure I'll think of him forever when I say 'itaiiiiiiiiii'.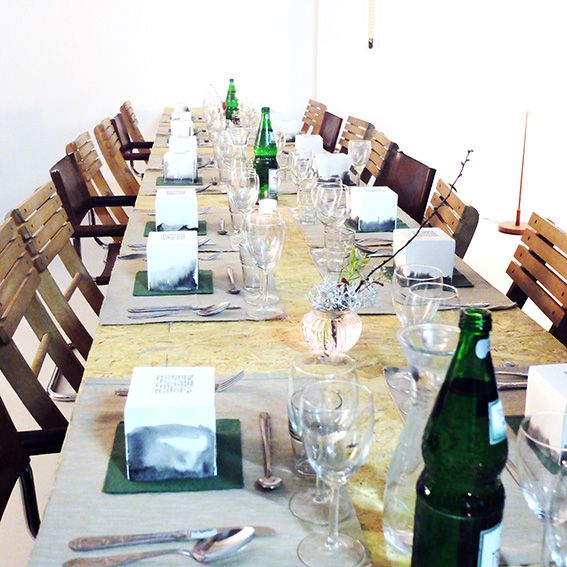 The first scheduled event of the week was the Urban Squad Kitchen pop-up dinner. The jet lag has left my memories of the evening slightly fuzzy. But, as I recall it, the evening was a wonderful start to an even better week. I was driven, in the rain, to what seemed to be a somewhat hidden away factory which fondly reminded me of warehouses in Sydney's Surry Hills.
"Would you like a glass of cava? We have sweet or dry."
As icing on the cake, I was called 'charismatic' by two lovely girls on my way out. Gosh, if I can pull off the illusion of charisma after 24 hours of travel, I thought, I can do anything! It could have been the 'dry' cava talking.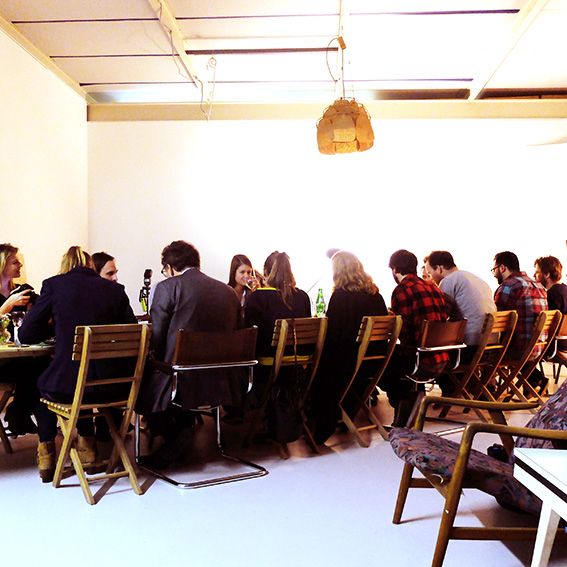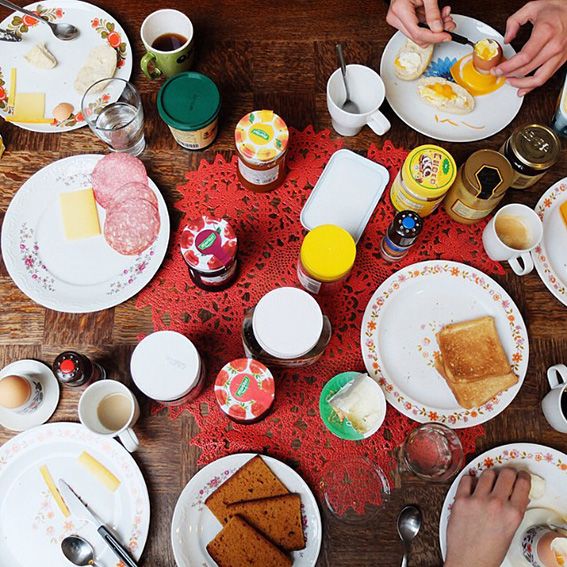 I pretty much lived on 4 hours sleep per night throughout the week at this gorgeous little B&B, and each morning I'd arrive at ab hostel (which was the base camp for our group and was also where the boys were staying) for breakfast. I miss these mornings. Pouring my orange juice from a giant OJ cask. Soft boiled eggs. And Pants Off (I'll talk more about Pants Off later). I loved those little retro floral plates, too.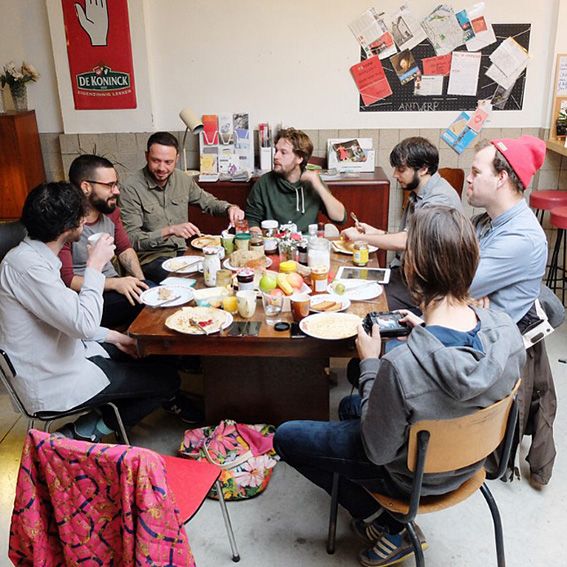 The team of 12 creatives was made up of 7 boys and 5 girls. I didn't notice that I somehow ended up tagging along with the guys until I asked my friend back in Tokyo "Did you see my pics of Antwerp?" and he replied, "Oh yeah, but they were mostly just of guys". Hah! Oh gosh, just looking back at these photos I think I could tear up again.
I did try to take some pictures in between all of the scheduled activities. To be honest, I could have been happy just walking around taking photos all week, and in the end I formed a 'Antwerp Fujifilm Club' photo team with two of the best guys on the planet. Again, more of that later, but at this stage, I simply snapped a few buildings on the way to and from scheduled events.
Back in Tokyo, over lunch last week, my friend Martin mentioned that I managed to take 'Hello Sandwich style' photos in Europe, too. He referenced these kinds of corner shopfronts and, in his words, 'Non-touristic' photos. This made me very happy. I always think that you can get a decent view of the true city if you take a trip to the suburbs, and to a supermarket.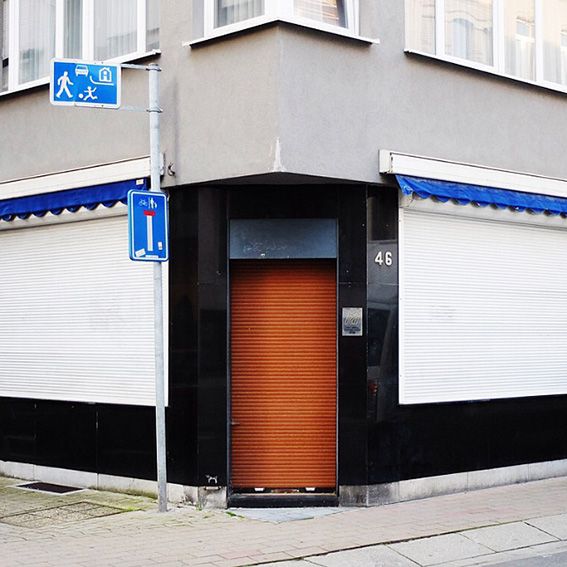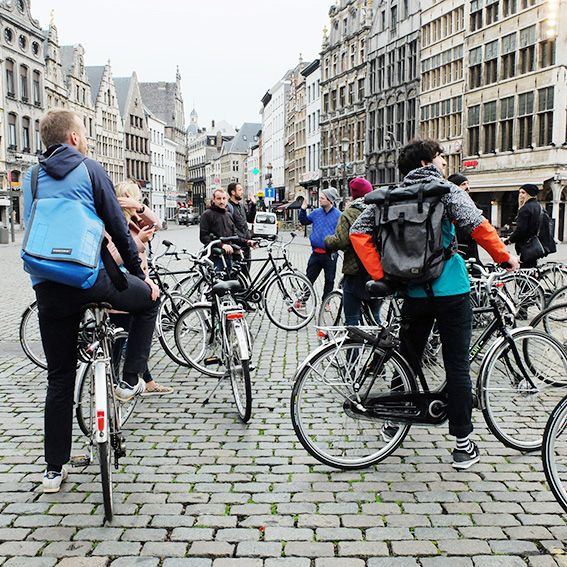 But back to the tour, where I was whisked off to the morning after I arrived. At 9am we were sent off on a Cyclant bike tour around Antwerp.
I don't think I'd completely adjusted to the timezone in Antwerp just yet, so again, these memories might be a little fuzzy.
Looking back now, after only just one dinner with these 11 other creatives, it's hard to believe just how well we all got along even on the first day together.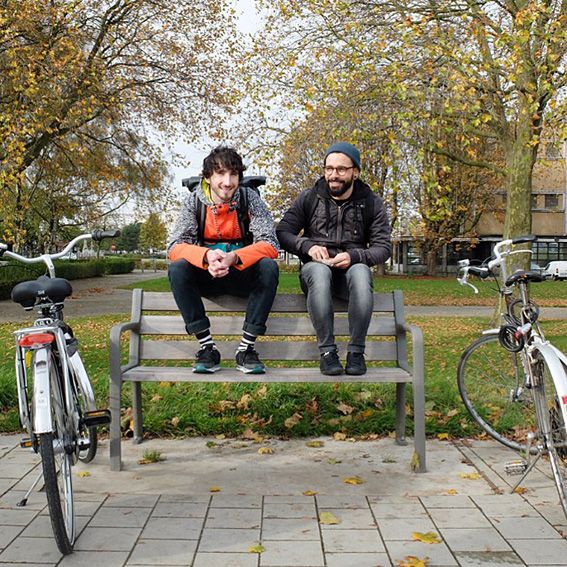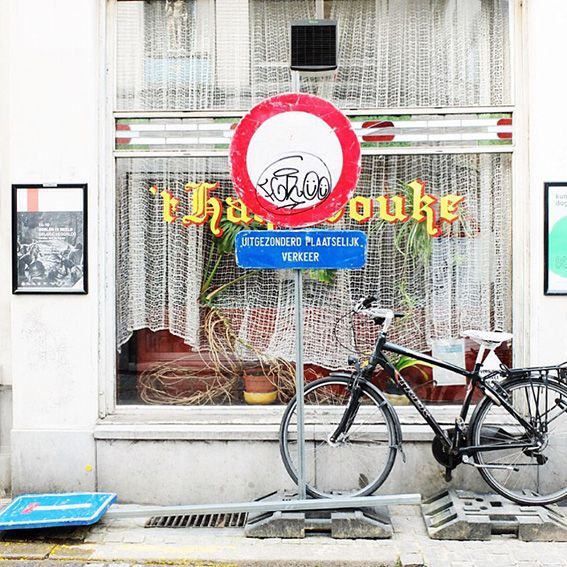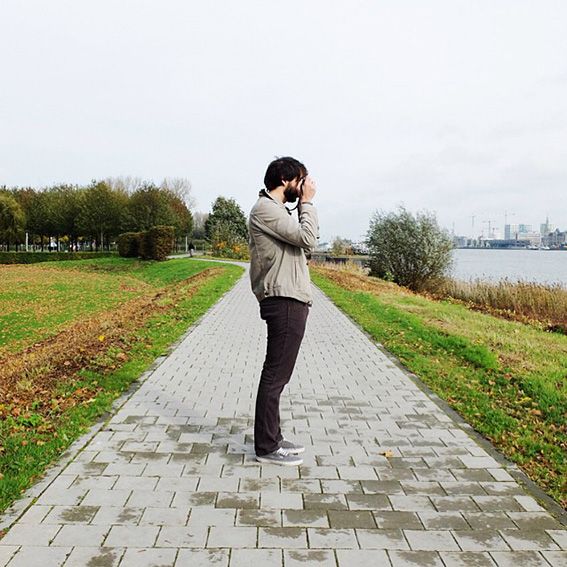 That day I rode all over Antwerp's bumpy streets and chatted to Adrian from Madrid about photography. I felt inspired beyond words. The kind of inspired where you catch yourself smiling and squealing under your breath in public places.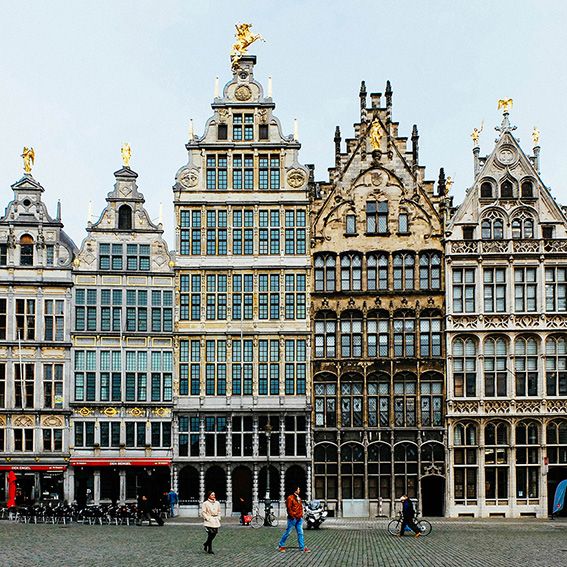 Standing in Grote Markt, I briefly snuck away from the bike tour for a moment to take this photo. I wished that I was half the height of these buildings so they'd be straight. "You can fix that later with SKWRT", Adrian replied. I was so thrilled to be travelling with such brilliant photographers. It was incredibly reassuring to travel with a group of people who took just as many photos as me, and who would happily wait for one another while they crouched down in the middle of a busy street just to get the right shot. These were my kind of people.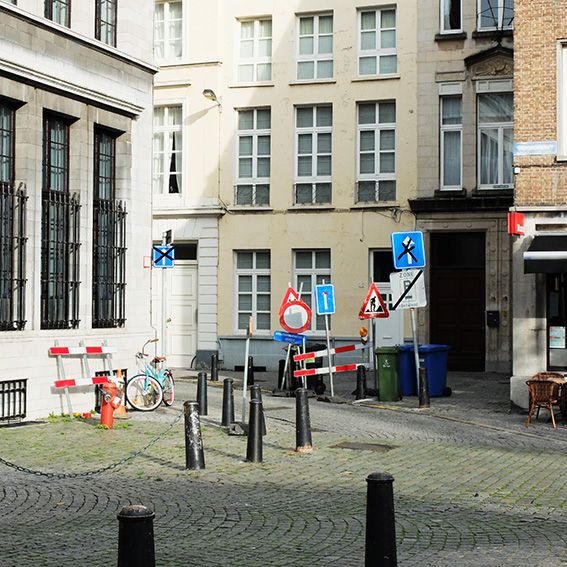 I stopped here to take a picture during the bike tour, but when I tried to follow the group around that corner, they were nowhere in sight!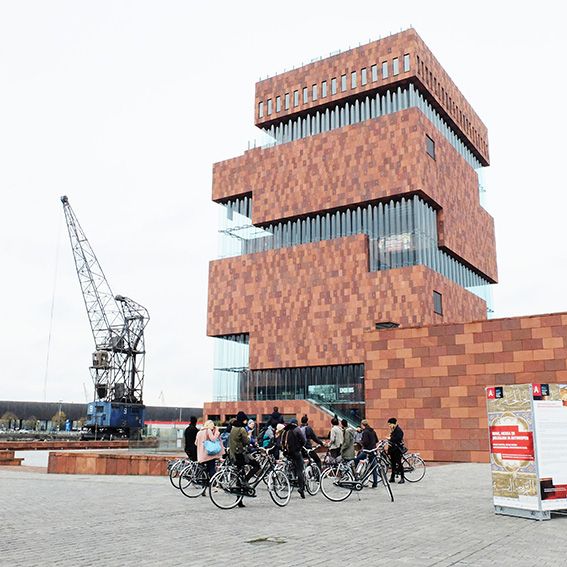 Luckily there was one other keen photographer who lingered just as much as me, and we ended up finding the group together. Here is a shot of the group outside the MAS art museum.
One of the longest underground tunnels I've been in. And certainly the longest tunnel I've ridden along.
You can take your bike on the escalators in Antwerp! Amazing, no? There's Itay, from Tel Aviv, checking his phone on the escalators. That was another brilliant thing about this trip, which may sound pathetic, but because we were all there to promote the city through our social media outlets, it was completely acceptable to be sitting at lunch on our iphones all day. I mean, THESE are my people!
Here we were, a group of 12 strangers, and a videographer, a photographer, a representative from Tourism Antwerp and from the PR company...together all day every day. Completely comfortable in silence on our iphones at lunch. In Antwerp. We often joked about what our combined instagram following would be if we added up all of our followers.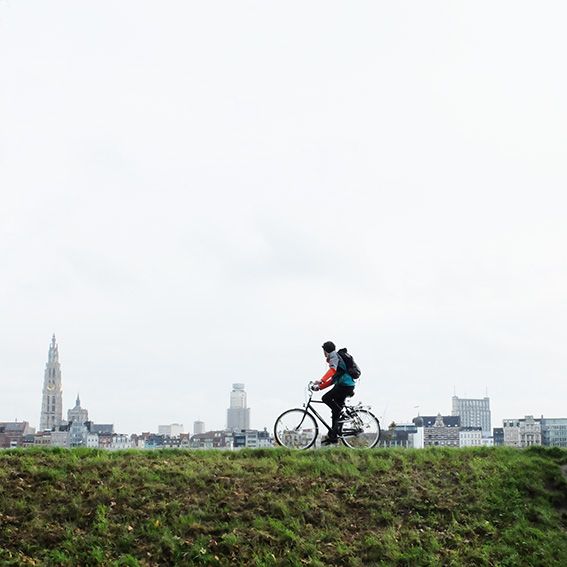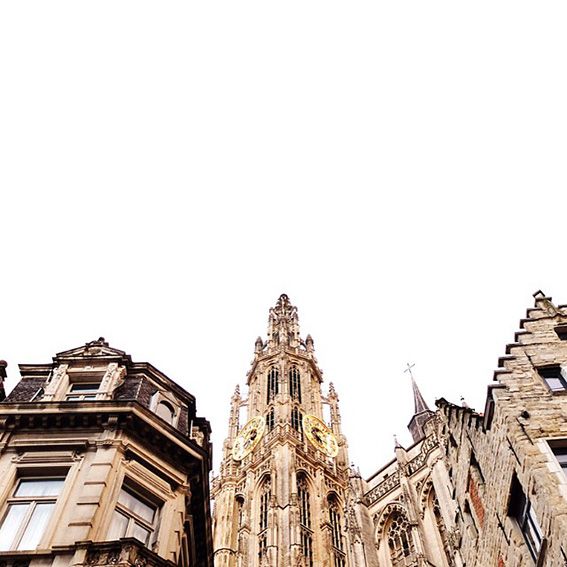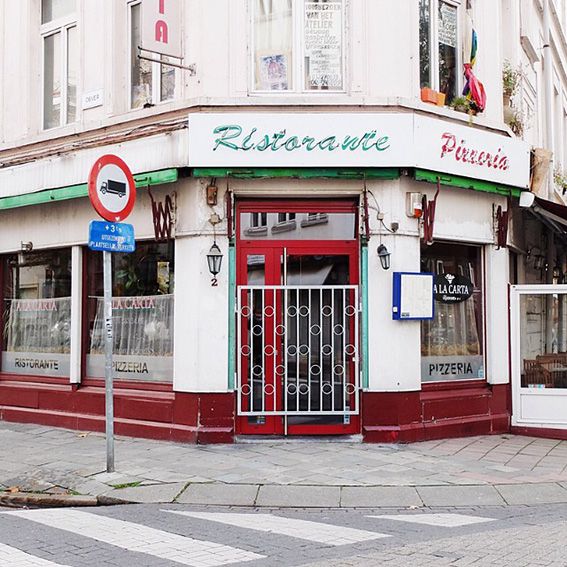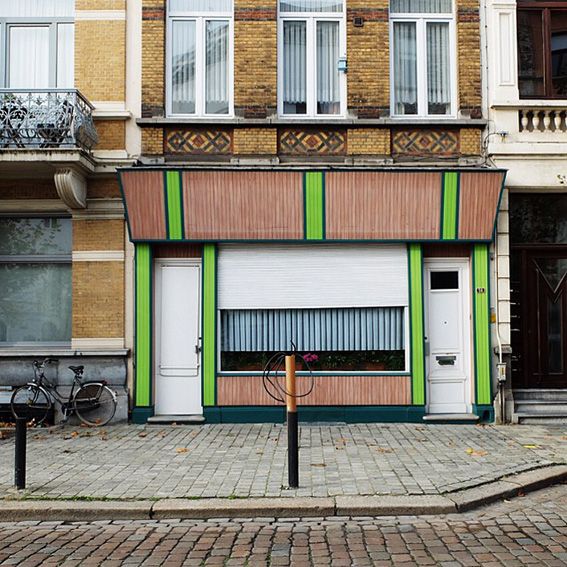 I could have spent the week alone taking photos like this. I would have loved to. That, and spending time looking at packaging in supermarkets. Don't you love doing that in different countries?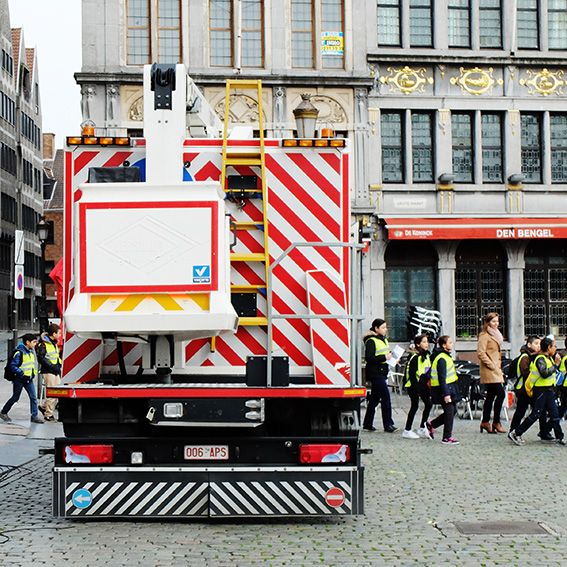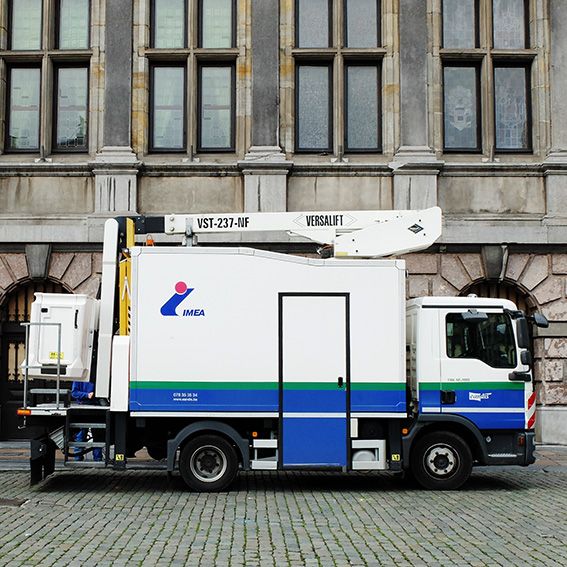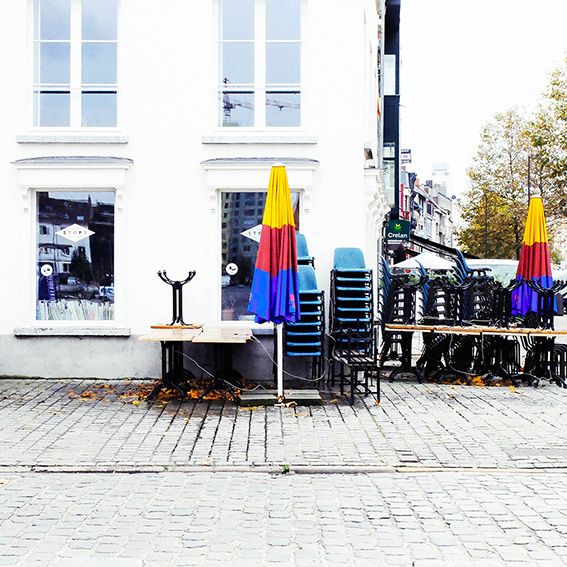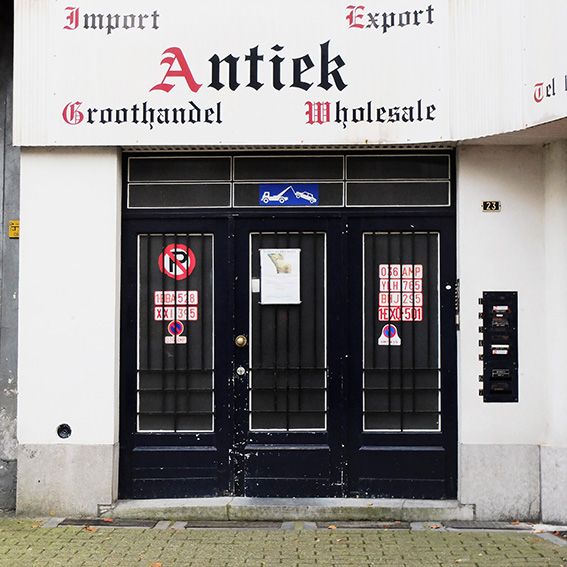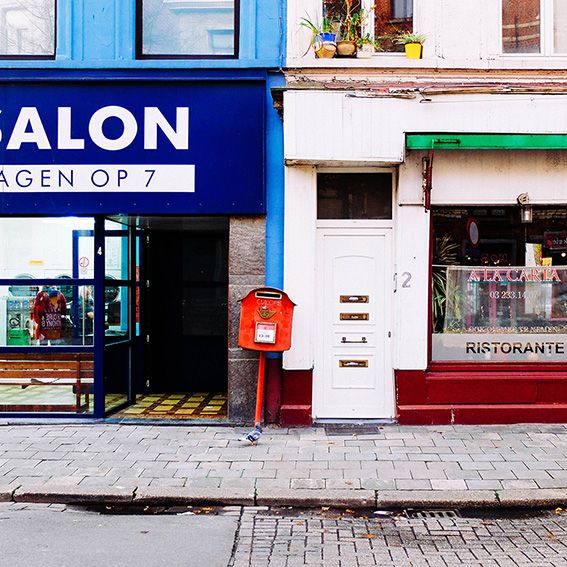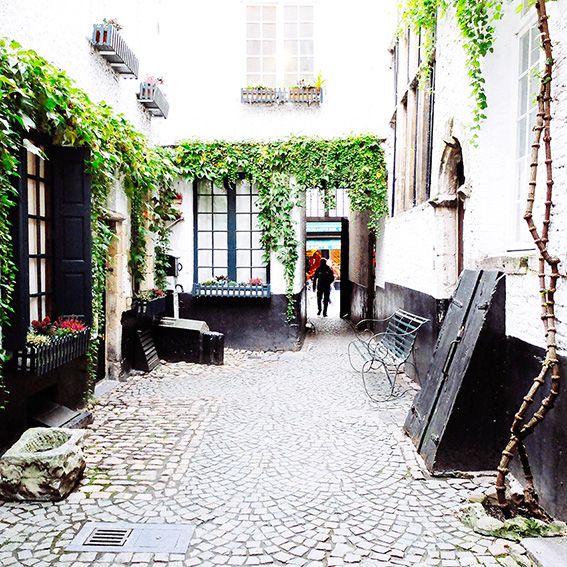 But the time spent wandering with these other 11 creatives was, for me, absolutely life changing. The PR company, Walkie Talkie, did SUCH a freaking incredible job curating this group. It shouldn't have worked so well, I mean, I don't know how it did, but it was mind blowingly fantastic.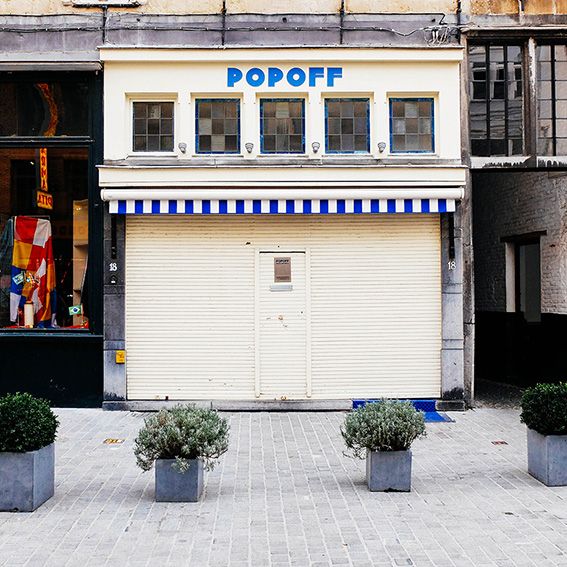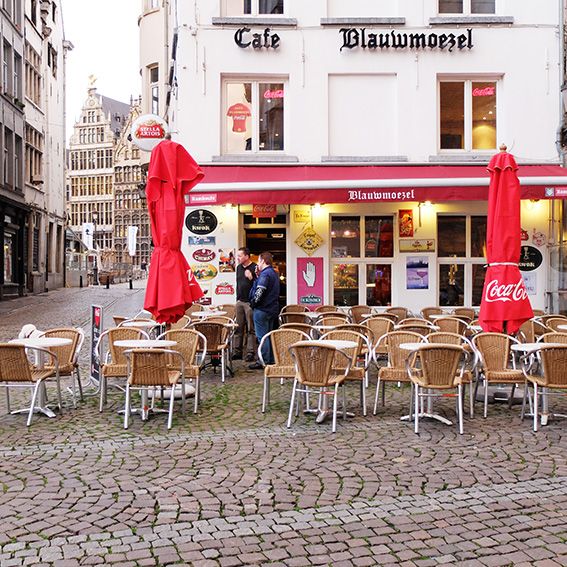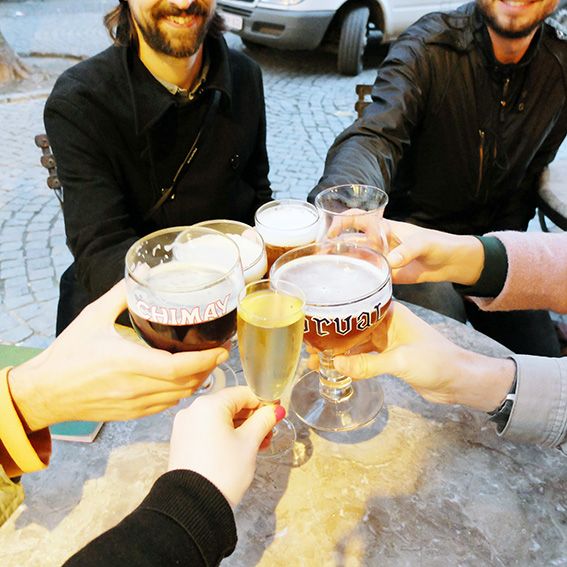 Pre-dinner Belgian beers, and errrr, more cava for Sandwich.
The first full day together in Antwerp ended with another special dinner at Felixpakhuis. At this stage I'm still not sure that it had all sunk in just yet. Sitting at my little chair on Antwerp cobblestones. Chatting away to new friends. Eating more delicious food and sipping nice wine. Oh, such a special time.
Over the next little while I'll go through more shots from the week and share them with you. I hope you might enjoy the pictures.
Love Love
Hello Sandwich
xoxo